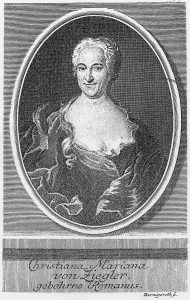 Come and join us on 30 April at 6.30pm in the church of St Mary-at-Hill for the first Bach Vespers after Easter. We will perform Bach's poignant cantata BWV 108, Es ist euch gut, daß ich hingehe, on the theme of comfort in loss. Bach first performed this cantata in 1725. Unusually, the text of the cantata was written by a woman, Christiana Mariana von Ziegler (pictured). Bach set it with superb arias for bass, tenor and alto. The service will also feature other music by composers of the German baroque, performed on period instruments, including a little-known work for soprano soprano solo with violin obbligato: 'Ich will den Herrn loben allezeit', by Johann Nicolaus Hanff (1663-1711).
It is free to attend and you don't need to be religious, so do come along and bring a friend. We look forward to sharing Bach's wonderful music with you.
Following Bach Vespers: 28 May.