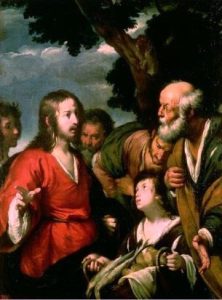 Come and join us for Bach Vespers on 31 July, at 6.30 pm, in the church of St Mary at Hill in the City of London. We will perform Bach's cantata BWV 187, Es wartet alles auf dich. This superb cantata consists of two parts, which Bach intended to be performed either side of the sermon, and we will do the same. It is based on the Gospel story of the miracle of the feeding of the multitude, depicted here in an early seventeenth-century painting by Bernardo Strozzi. The music of this cantata is such high quality that Bach later re-used much of it in his famous Mass in G minor, BWV 235. There will also be lots of other music from baroque Germany, sung and performed on period instruments.
Everyone is welcome (you don't have to be religious) and entrance is free, with a voluntary collection. We look forward to seeing you there, and sharing Bach's wonderful music.
The following Bach Vespers will be in September. Watch this space (or sign up to our newsletter) for the exact date.