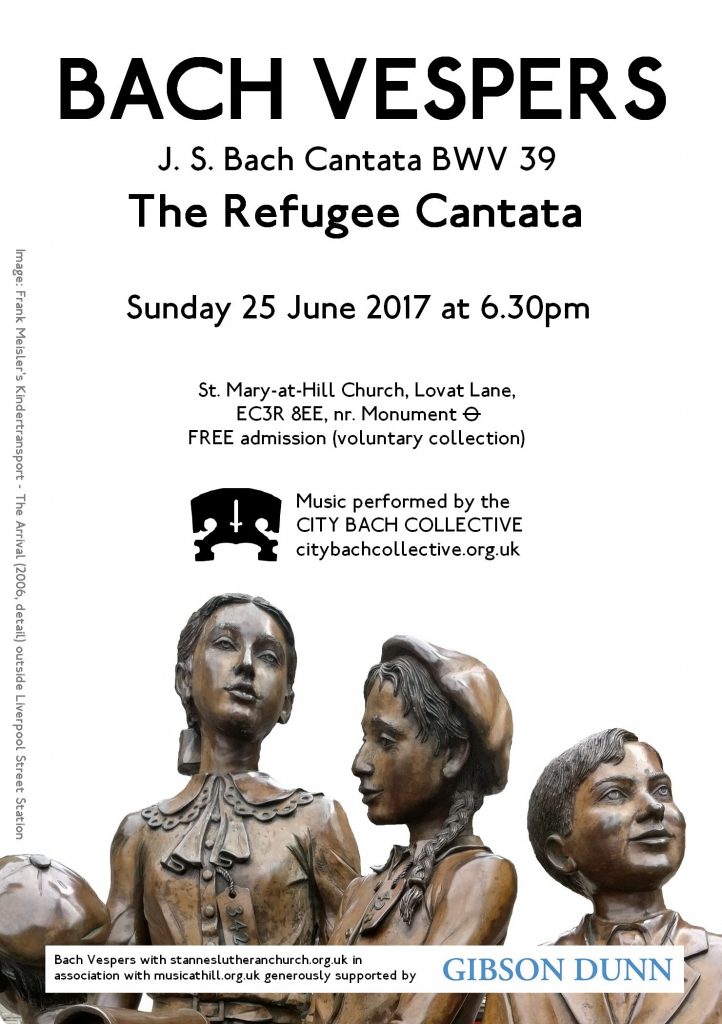 At the end of next month we are going to perform a special work in J. S. Bach's sacred cantata canon. For a long time it was thought that Bach wrote his 'Refugee Cantata' to commemorate the expulsion of Protestants from Salzburg in 1731. In fact Bach wrote the piece as part of the third (now largely lost) cycle of cantatas in Leipzig, five years earlier in 1726.
Nonetheless the themes of the cantata resonate today. Contemporary London is a goal and indeed home for many seeking refuge from conflict in the Middle East and North Africa. Yet London has always been a forward-thinking, inclusive metropolitan destination for so many; one only has to go as far as Liverpool Street Station (right) to be reminded of the Kindertransport that provided an escape for some many fleeing Germany during the Second World War.
More than this, the fact that this, Bach's cantata for the first Sunday after Trinity, Brich dem Hungrigen dein Brot, is associated with the persecution of Protestant Christians 200 years after a Papal bull excommunicated Martin Luther – and that Luther was himself cast out for precipitating the Reformation 500 years ago this year – gives us pause to consider the words of the opening chorus afresh:
Break your bread with the hungry
and those who are in misery take into your house!
If you see someone naked,
then clothe them and do not recoil in disgust.
The performance of J. S. Bach cantata BWV 39, the 'Refugee Cantata', will be as part of a service of Lutheran Vespers in association with St. Anne's Lutheran Church, hosted at the church of St. Mary-at-Hill, near Monument, EC3R 8EE on 25 June 2017 at 6.30pm. This event is part of Refugee Week 19-25 June, more information via refugeeweek.org.uk